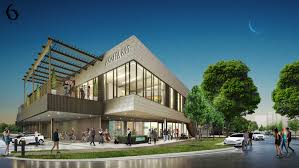 A Special Wednesday Morning Music Club tour has been set up just for us thanks to David Hammond. So don't miss your chance to take this virtual tour of the new KMFA facility.
To pick up the link for the virtual tour, see the October newsletter Noteworthy in your email inbox or on this website.
After broadcasting from leased space for 52 years, KMFA is getting a new permanent home. They have purchased land adjacent to the Rebekah Baines Johnson Center (RBJ Center) as part of a mixed-use development just east of I-35 on the north shore of Lady Bird Lake. The planned 18,000-square-foot building will open in late 2020, tripling the size of the current KMFA studios and allowing for new amenities including performance and recording spaces.
The redeveloped RBJ Center will open up myriad opportunities for growth and engagement. The new "urban village" will be home to retail, offices, market rate rentals, and affordable housing on its 17.8-acre site.